Hier sammle ich wieder die Pranks und Aprilscherze 2011, so wie jedes Jahr: 2007, 2008, 2009, 2010. Tipps und Links bitte in die Comments. Danke an Micha, der hier mitmacht:
"Ha! Ich, der allmächtige Micha, Herr des pangalaktischen Universums, hab's geschafft. Ich habe Nerdcore gehackt [no you didn't], mir einen Account gecrackt [no you didn't] und dieses Blog ohne Rücksicht auf Verluste in meine Gewalt gebracht [ja, teilweise]! Und jetzt werde ich gar garstig Schindluder treiben [you can try]. Murharhar! Also Katzenbilder posten, ABBA-Musikvideos veröffentlichen [i hope you dare] und euch mit Geschichten aus meiner gar schrecklichen Jugend zum weinen bringen [i hope you will]. Oder … nein, besser: eine Liste zu den besten Aprilscherzen wäre doch eine Idee. Ha! Ja, das wird euch den Tag verderben. [you will do] Ihr ?&§$'#|! [signed]"
Improv Everywhere:

(Youtube Direktjarjar)
1. Minecraft: Das Indie-Game bekommt einen Item-Store
2. YouTube Orbit: Vlogger berichten von Alien-Invasion
3. zdnet: Blackberry ohne Bildschirm kommt!
4. ChromeAdblock: Werbeblogger für's Reallife entwickelt
5. IteamSea: Unboxing a Stone
6. Kodak: App lässt bestimmte Personen von deinen Photos verschwinden
7. ThinkGeek: Anti-3D-Brillen
8. Solid Gold Bundle: "$0.50 worth of priceless files for just $960!" (Danke @hamrath)
9. Entertainment Weekly: Arnold Schwarzenegger is back as 'The Governator' -- EXCLUSIVE: "Arnold Schwarzenegger reveals his plans for the next phase of his extraordinary career: He's going be a cartoon superhero, known as The Governator. 'When I ran for governor back in 2003 and I started hearing people talking about 'the Governator,' I thought the word was so cool,' Schwarzenegger, 63, tells EW in his first press interview since leaving office last January. (Watch an EW-exclusive video of Schwarzenegger talking about the project.) 'The word Governator combined two worlds: the world of politics and the movie world. And [this cartoon] brings everything together. It combines the governor, the Terminator, the bodybuilding world, the True Lies…'" DAS IST TATSÄCHLICH WAHR! Hier ein Preview, wird ein Comic und eine Zeichentrickserie. w00t?!
10. Google stellt GMail Motion vor: http://mail.google.com/mail/help/motion.html (Danke Mo!)
11. PirateBay kauft Ebay: http://thepiratebay.org/blog/189
12. Wikileaks veröffentlicht Dokumente zu Caesars Ermordung: http://www.nzz.ch/nachrichten/kultur/medien/wikileaks-dokumente_zu_caesars_ermordung_1.8931839.html
13. TechCrunch: Google kickt Google Places wegen Content-Farming aus Index
XKCD animated in 3D! (Danke Tim!)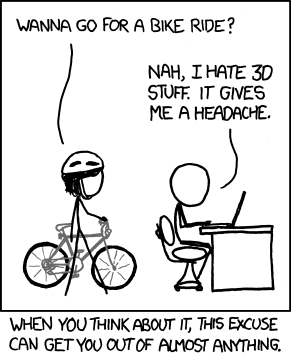 Mehr dazu: XK3D: "davean, chromakode, and okayzed spent yesterday building a system to convert xkcd to 3D. okayzed's computer vision algorithms try to automatically break the comics into layers, but sometimes they make mistakes!"
14. tiedemann neuer extra3 moderator
http://www.ndr.de/fernsehen/sendungen/extra_3/wir_ueber_uns/neuermoderator101.html (Danke Nilz!)
15. itwire.com: Linux Kernel unter BSD-Lizenz veröffentlicht
16. promos.airnz.co.nz: Kosten für Sitze beim Flug werden nach Gewicht berechnet
17. atlassian: Nach Angry Birds kommt nun Angry Nerds
18. Piratenpartei Bayern: ... wird unabhängig
19: New Scientist: Masturbation hilft gegen Restless-Legs-Syndrom
20. scoopon.com.au: Einhorn-Reiten für zwei Personen kostet 49$
21. BBC News: Vatican "Porn" Collection to go Online
22. ABC News: Twitter will Geld für Tweets berechnen
23. business-on.de: Google View bald auch in deutschen Wohnungen
24. Microsoft: Microsoft kündigt 42" Tablet an
25. derstandard.at: Die Kosten für den geplanten Parlamentsumbau werden durch Werbung finanziert
26. c't: Berliner Außenministerium wechselt zu Apple
27. Tagesspiegel: Sarrazin kandidiert für Berliner FDP
28. Ryanair: Kinderfreie Flüge bei Ryanair
29. Hulu: Design like 1996!
30. Reddit: Reddit Mold lässt Redditors blöde rumspielen, anderen Reddit-Nutzern Buchstaben aus den Comments klauen und mehr...
31. Urban Dictionary: ... klaut Wikipedia-Design
32. Tagesschau.de: Tagesschau & Co. gehen auf Sommertour
33. socialnetworkstrategien: Bertelsmann kauft Youtube – DSDS bald im Abo live auf Youtube
34. Spreadshirt.de: Pheromon-Shirts ab sofort zu haben!
35. herr-der-ringe-film.de: Der Hobbit wird teils in Deutschland gedreht
36. punkteerlass.de: Kraftfahrtbundesamt verlost Flensburg-Punkte-Erlass
37. ThinkGeek: Playmobil Apple Store
38. 360 Live Magazin: John Carpenters Die Klapperschlange wird zum Spiel
39. Guardian: Royal Wedding Liveblog zur Prince-William-Hochzeit
40. Google: einfach mal nach Helvetica googlen
41. turi2: Guttenberg wird Gottschalk-Nachfolger bei "Wetten dass...?"
42. Google: Chrome-Plugin verunstaltet alle Websites mit Comic-Sans
43. Starbucks: Bald mobile Starbucks-Fillialen auf Scootern
44. Blizzard: StarCraft für die Xbox 360
45. Blizzard: Ein stockfinsterer Dungeon für WoW ... komplett ohne Licht
46. Tonspion: Rammsteins nächstes Album kommt mit vertonten Gedichten von Walther von der Vogelweide
47. spOnline: Best of Aprilscherz
48. Wired: April Fools' Day, Sucking the Fun Out of Pranks Since 1686
A designated day for pranks is practically a contradiction in terms. A good prank is, by definition, unexpected; having National Play a Prank on Someone Day is like asking someone to choose Chuck E. Cheese's or the Olive Garden for her surprise party.

bug_altextWorse yet, the web has traditionally treated April 1 as Be Annoying for No Good Reason Day. Ha, ha, you're pretending your site's down! I might have fallen for it if three other sites from my morning trawl hadn't done the same thing. Now, can I read the damn comic strip, please?

Oh, this next site is in Finnish! It's not a prank, because there's no way I'm going to think the author suddenly started speaking Finnish like someone out of an Oliver Sacks book.
49. Bree Olson: "Guess who's gonna get married?! :) :) :) :) :) :)"
50. Slate: The April Fools' Day Defense Kit
51. Mashable: April Fools' Day By the Numbers [INFOGRAPHIC]
52. Good Mag: Meet Michael, Google's Auto-Completer
52. DeviantArt: A Trollface April Fools
53. New Scientist: Masturbation calms restless leg syndrome: "Too much of it will make you go blind – or so you might have been told. But for some, masturbation might have a real clinical benefit: it can ease restless leg syndrome (RLS). The insight could provide sweet relief for the 7 to 10 per cent of people in the US and Europe who suffer from the condition."
54. Skulladay – The Musical
55. Spreeblick: Neuer Name für Hartz IV: Hearts 4
56. World of Warcraft: Introducing Crabby: The Dungeon Helper
57. moog bringt das polyphone theremin heraus: http://www.moogmusic.com/theremin/?section=product&product_id=21416 (Danke Jan!)
58. StarCraft Kinect: "The Future of StarCraft
Ever since its inception, the real-time strategy genre has been missing one crucial gameplay element: You. Generations of players have commanded their forces from afar, making tactical decisions and planning their strategies at a safe distance from the front lines. But now, we finally have the technology to put you at the center of the battlefield. Welcome to StarCraft: Motion Overdrive!" (Danke Dave!)
59. Funny or Die becomes Friday or Die
60. Monotype: Comic Sans Pro Typeface Family Makes its Debut: "Featuring elements such as speech bubbles and cartoon dingbats, Comic Sans Pro extends the versatility of the original Comic Sans, designed by Vincent Connare for Microsoft in 1994. "Hats off to Monotype Imaging for enlivening Comic Sans and getting it back to its roots as a comic book lettering face. Now everyone can write with more panache – and look even more like a pro using swashes, small caps and other typographic embellishments," said Connare." True.
61. Slashdot is remixable.
62. Rock, Paper, Shotgun: Introducing 'UbiMan' Copy Protection: "The new protection system from Ubi, Soft & Sons requires that an officially-approved Man be stood behind you at all times, watching you as you play."
63. Youtube: Top 5 Viral Pictures of 1911
64. ThinkGeek: Arsenic-Based Sea Monkeys:
Everyone knows that a NASA funded research team claims to have found a bacterium (GFAJ-1) in Mono Lake, California, that when starved of phosphorus substitutes arsenic and continues thriving. Some folks say bunk, some folks wonder why astrobiologists are bothering to study things on Earth, and others just want to know what's in it for them.

Well, we now know what's in it for them, er...you. See, the arsenic chomping bacteria are cool, but what's even cooler are the Artemia monica found eating said bacteria. Duh, what?
65. ThinkGeek: PLAYMOBIL(TM) Apple Store Playset
66. Bleeding Cool: Arianna Huffington Buys Avatar Press – Comics Alliance And Bleeding Cool To Merge
67. BBC: 10 stories that could be April Fools pranks but aren't
68. CERN: ATLAS or CMS? One of them must leave! (Teilchenbeschleuniger-Aprilscherz, fuck Yeah!)
The astonishing rumor that has been circulating since two weeks turned out to be true. The CERN management has decided that either ATLAS or CMS will be taken out of operation as of September 2011. Which of these two detectors will be scrapped is going to be decided next week during a special session of the CERN Council. In an email sent yesterday evening to CERN staff members CERN Director General Rolf Heuer explains:

"This was a very difficult decision to make. However, we are going through difficult times and radical steps could not be avoided. In the current budgetary situation we simply cannot afford running two experiments with identical physics goals and similar detection capabilities."
69. IKEA HUNDSTOL Dog Highchair
70. Calvin & Hobbes Realfilm
71. "Hey, nerds. Try typing the Konami code on FOD today."
72. BBC: The art of the perfect prank: "As April Fools jokers hatch their plans, what's the secret to a perfect prank, asks broadcaster Toby Amies. And how far do the very best tricksters go in preparing their practical jokes?"
73. Sourcebit: The Hipster Companion-App (mehr)
Find the hottest fashions – Simply pull up the fashions tab on The Hipster's Companion and it will immediately locate every Urban Outfitters store within a 20 mile radius. The app is also optimized to track sales on skinny jeans and leggings, as well as non-prescription, heavy-framed glasses with or without lenses.

Optimize your dining experience – Tired of those corporate chain casual dining spots that dominate the landscape? Now you'll be able to hunt down only places that serve vegan meals and offer locally brewed beers. Sure, you may have to drive four hours just to find a place to eat, but would you really rather go to Applebee's?

Get recommendations for the best music – Now that Arcade Fire has won a Grammy their totally over, but The Hipster's Companion will help you find the next amazing band no one's heard of and who you can completely abandon once they start to get big. Just simply select from the list of seemingly incompatible musical styles to find the latest techno, hip-hop rockabilly act, or randomize your choices for the true hipster experience. You can buy any songs available on iTunes directly from the app, but shouldn't because any band that's on iTunes has already sold out.
74. Soundcould goes Geocities (Danke Robb!)
75. PolyTheremin: Moog's April Fools' Day Gift to the World
The theremin, the go-to instrument for cheesy sci-fi sounds, is getting an April Fools' Day upgrade from Moog Music.

The PolyTheremin, introduced to the world in Moog's prank video below, is played — like a regular theremin — by positioning the musician's hands in close proximity to the instrument's antennas. However, the PolyTheremin boasts five antennas rather than the original instrument's two, allowing the player to coax polyphonic sounds out of the bizarre-looking device.

"Basically, it breaks the laws and rules of everything we know about theremin," says Dorit Chrysler, director of the New York Theremin Society, in the video.
76. Canned Air from Prague
77. Google Chrome: A better web through faster fingers: Get ready to Chromercise!
Want to increase your hands' STRENGTH and DEXTERITY while browsing the web FASTER and fitting into sleeker, SEXIER gloves? Chromercise is the finger fitness program you've been drumming the table for. BUILD muscle tone and flexibility! ELIMINATE unsightly upper-finger flab! Surf the Net like a speed-typing master! Put the world in your hands—GET CHROMERCISED!
78. Makezine: Car-B-Gone: Mitch Altman's Newest Universal Remote
79. AdBlock: "Introducing the beta version of AdBlock Freedom: augmented reality eyewear that detects and removes ads from the world in realtime."
80. Kotaku: The Wii Controller That's Powered By Sweat
81. Toshiba Spectacle: World's First and Only 3D Monocle
Enhance your Entertainment

Ready to take movies and games to the next level? Imagine being right in the middle of an action movie scene, or right on the basketball court during the playoffs! With the Spectacle, you'll experience one-eyed 3D so real, you'd think you were using both eyes!
82. The Typescreen: iPad-Typewriter
83. ThinkGeek: Angry Birds Pork Rinds
84. Virgin: Branson buys Pluto, reinstates as planet: "In a universal first Sir Richard has revealed that he has bought the former planet of Pluto for an undisclosed sum. As a firm supporter of small businesses Sir Richard is hoping to set an example for struggling entrepreneurs facing setbacks by having Pluto reinstated as an official planet, after its declassification by the International Astronomical Union in 1996."
85. LHC: In a surprise find, it's Hugs, not Higgs (Noch mehr Teilchenbeschleunigeraprilscherze, fuckyeah!)
Secondary school student in astonishing educational-programme discovery. "Hugs boson" discovered in analysis of LHC data.

Shock. That has been the universal reaction to the announcement that the data from the LHC, which has yet to reveal the Higgs boson, has already led to the discovery of a hitherto unsuspected particle, the Hugs. What makes the discovery even more astonishing is that it was made by a 16-year-old student who signed up for the "Masterclass" programme. This programme has 110 participating laboratories and universities across Europe and gives 6000 secondary students the opportunity to perform realistic physics experiments. For the first time, the students this year have been working with actual LHC data.
86. BBC: Vatican "Porn" Collection to go Online: "Funding for the collection's digitisation has been procured via an executive order from Italian PM Silvio Berlusconi, who has expressed a strong interest in "protecting our priceless cultural heritage." Berlusconi has appointed a confidential liaison to oversee the process. Age verification, credit card processing, and acount maintenance will be run by adult entertainment magnate Larry Flint."
87. Comics Alliance: DC Announces Their Next Major Crossover: 'DCU DISARMED' [Exclusive]
The severed hand of Black Hand! With that connection established, the newly christened "Black Handtern" sets about building itself an army of severed limbs to get its vengeance against the heroes.

Joining the Black Handtern are a set of lopped-off limbs that Didillo assures us the fans have been demanding:

Lex Luthor's Right Hand: Amputated due to cancer back in the '90s, the most evil hand in Metropolis has returned to mastermind the team's operations. Not only does it bring the tactical mind of an appendage that drew a thousand death-trap blueprints to the table, but it still has the Kryptonite ring that necessitated its removal -- a deadly weapon against Superman!

Aquaman's Right Hand: According to the official word from DC, this is the one that was chewed off by piranhas, not the one that was recently chopped off by Black Manta. Still, that raises the question of just when these two hands will meet. Look for the answer in a one-shot coinciding with the release of Geoff Johns's Aquaman series later this year!

Arsenal's Right Arm: Fueled by equal parts heroin and vengeance, the arm recently lost by Green Arrow's former sidekick is unquestionably the team's wild card.

The KGBeast's Left Hand: The hand that pulled the trigger on a hundred assassinations for the Soviet Union was sacrificed in the Beast's battle against Batman, and returns now as the muscle of the team. But who is it really working for?
88. National Geographic: April Fool's Day: Why Is Today Prime Time for Pranks?
The most popular theory is that France changed its calendar in the 1500s so that the New Year would begin in January to match the Roman calendar instead of beginning at the start of spring, in late March or early April.

However, word of the change traveled slowly, and many people in rural areas continued to celebrate the New Year in the spring. These country dwellers became known as "April fools," the story goes.
89. Obey Giant: "Shepard Fairey will be making a special appearance tonight on Dancing With The Stars."
90. Hurrdurr.it
91. ThinkGeek: Star Wars Lightsaber Popsicles
92. Guardian: Who was invited to the annual washing of the lions at the Tower of London?
The proud recipients of an invitation sent out in 1856 must have felt they were being called to witness a magnificent event that joined history, royalty and a superb setting – British pomp and circumstance at its best.

Signed by one Herbert de Grassen, evidently a "senior warden", sealed with an imposing blob of crimson wax, and with the stern warning "It is requested that no Gratuities will be given to the Wardens on any account", it summoned recipients to witness "the Annual Ceremony of Washing The Lions" at the Tower of London.

The sharp-eyed might just have spotted the date: Monday 1 April. History, alas, does not record how many missed that crucial detail and arrived at the royal menagerie at the tower.
93. Angry Nerds: "What do you do when you have bugs in your code? Send in the Angry Nerds. Consider these issues…resolved."
94. Torrentfreak: Exploit Turns Anti-Piracy Agency Site Into The Pirate Bay
95. April Fools' Day 2011 in Gaming
96. Ron English: Fun on the Border: April Fool's Day
97. National Trust publishes Silly Walks
The list, released on April Fool's Day, sounds like a joke with names like Scratch Arse Ware, Slapper's Rock and Pisser Clough.

But all the walks are real, having been given the rather unusual names in less squeamish times or before the words became rude.

For example Booby's Bay in Cornwall is named after a seabird found in the area that is closely related to the gannet.

Kiss me Arse Steps also in Cornwall is believed to have been coined from the steep steps which on ascending would result in the person in front you having their posterior close to your face, though there is no such clear explanation for Scratch Arse Ware in Dorset.
98. XLR8R: Podcast: Ricardo Villalobos
99. AP News App Roswell-Prank:
I know my wife has this "AP Mobile" news app on her phone and receives text message alerts whenever something big is happening around the world, I decided to play a little prank on her.

This morning I changed my name in her contact list to "AP Mobile" and sent her a short and sweet message and waited for her to turn her phone on. Her mouth almost came down to the floor.